There are lots of different components that go into creating a website and if you're new to the process of web design and development, we understand that it can seem overwhelming and complicated.
But it doesn't need to be!
With over 26 years of experience creating websites, we have honed the design and build process making it easy for our clients to get involved and follow.
Web design and development is not an easy task and there is a lot involved, which is why we always recommend working with a web design agency.
In this article we outline our entire website design process from concept to completion, to help you understand the process.
Step 1. Website Discovery Session
All our web design projects start in the same way, with an initial discovery session.
These discovery sessions can either be held in person at our studio in Leigh-on-sea or virtually via Teams or Zoom.
In this discovery session our experts ask a series of questions to understand your business, your objectives, your goals and visual aspirations.
Here are some questions we may ask at this stage:
What services do you provide?
Who is your target audience?
Who are your competitors?
What is the primary purpose of your website?
What web pages would you like us to include (If you're unsure or don't know, don't worry we can help you with this!)
What functionality would you like to be included?
(Contact forms, e-commerce software, membership areas, live chat functionality etc)
Are there any integrating platforms or plugins that need to be considered?
Do you have any examples of website designs that you like?
Have any questions or queries? Don't worry our experts are on hand to help.

We will also make recommendations that we feel would benefit the end user, ensuring you achieve your goals.
Once the discovery session is complete our team should have a clear picture of the type of website you would like and what you are looking to achieve.
From this, our web design team will put together a proposal for you, detailing all aspects of your new website outlined in the meeting.
Once the project is agreed and the contracts signed, a project manager will begin creating timelines for your project.
Dates are likely to shift as the process unfolds, but an initial timeline can help to set realistic and achievable deadlines.
Your dedicated project manager will always ensure you are kept up to date throughout the entire process.
How long do websites typically take to design and build?
Website timelines can vary depending on the size and complexity of the project. We typically allow 8-12 weeks for an 8-10 page website with limited functionality.
Step 2. Website Strategy
Before creating an initial design concept for you, we take a look at the overall website strategy.
Our designers identify your customer journey through a series of sitemaps and wireframes.
Sitemaps identify each individual page on the website and where they sit in the navigation hierarchy.
Once agreed, the sitemap will be used to create your initial website wireframes.
Wireframes are the foundation of a website and are used to display the structure and layout of each individual page, before visual design and written content is added.
The two-dimensional illustrations focus on space allocation, the prioritisation of content layout, functionality, and intended user behaviours e.g. button clicks.
They also establish different page templates that will be used throughout the site including global structural features and secondary navigation.
If you haven't already got a domain name secured, we can help to find a variety of domain names in line with your business name, run checks to see which are available, and present the recommended shortlist for you to choose from.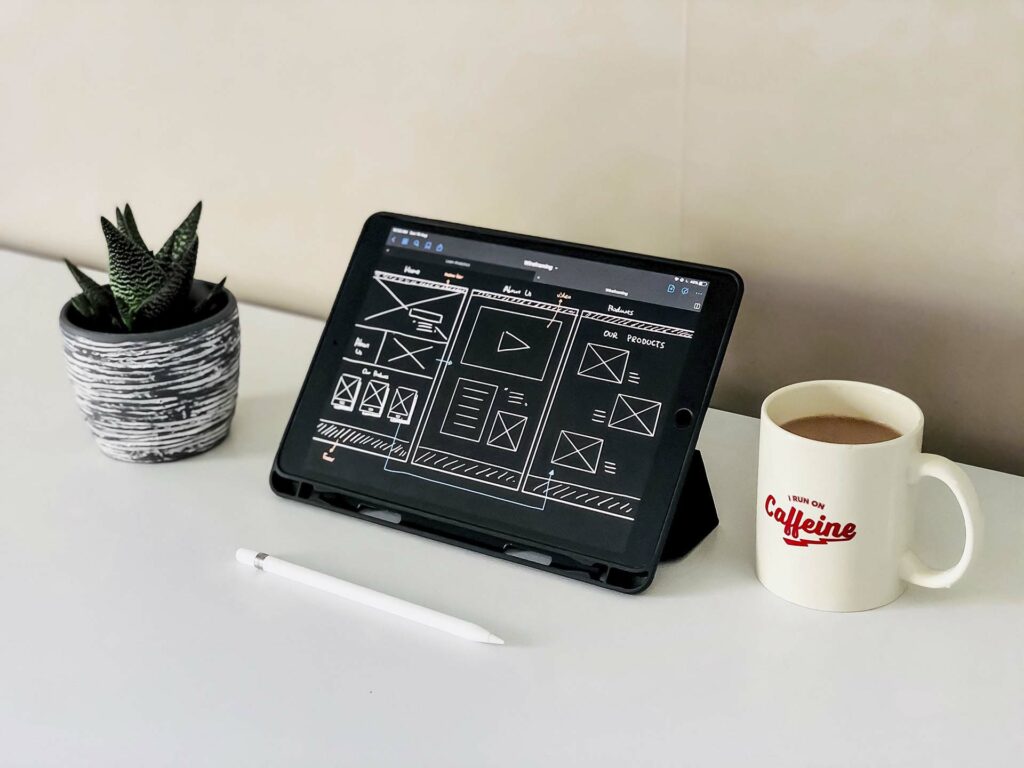 Step 3. Asset Collation
Your project manager will work with you to collate any assets needed for your web design project.
This typically includes:
Your brand guidelines to help define the look and feel of the website
High-quality images and videos you'd like to include on the website
Your website copy if you have opted to write this yourself
If you haven't got any brand guidelines for us to follow, our team will use the existing colours from your brand to create a colour palette.
If images and video can't be provided, we will use stock assets or can arrange for our photographer to capture some when convenient.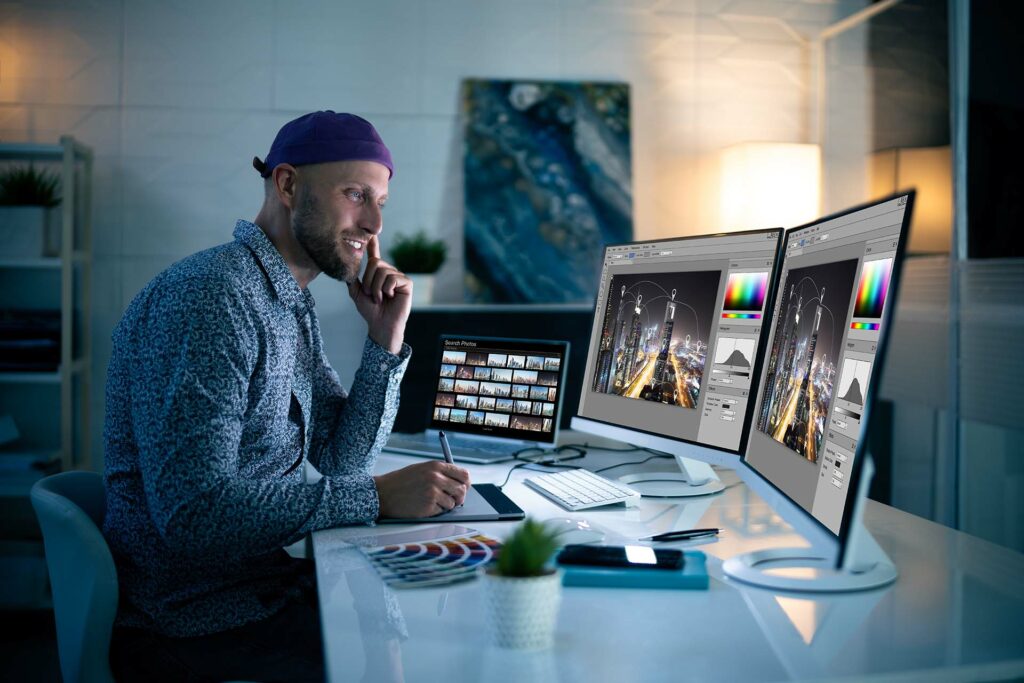 Step 5. Homepage Website Design
Once the wireframes have been agreed our team start the design phase.
Using a combination of ideas from your brand guidelines (if supplied), visual research, and user journey mapping, we'll create a homepage design that's completely unique to your business.
Why do we design your homepage first? 
Designing your homepage first allows us to establish a visual style that will be used throughout the rest of the website.
All our websites are designed responsively to ensure your website look good and is user friendly across all device sizes and types.
We supply your designs in both desktop and mobile formats so you can see first-hand what the website will look like.
Once we're happy with the initial concepts we'll jump on a call to present the homepage concept to you.
Our team of designers will then talk you through their vision, answering any questions and taking onboard your feedback.
If revisions need to be made, we will tweak the design until you're happy.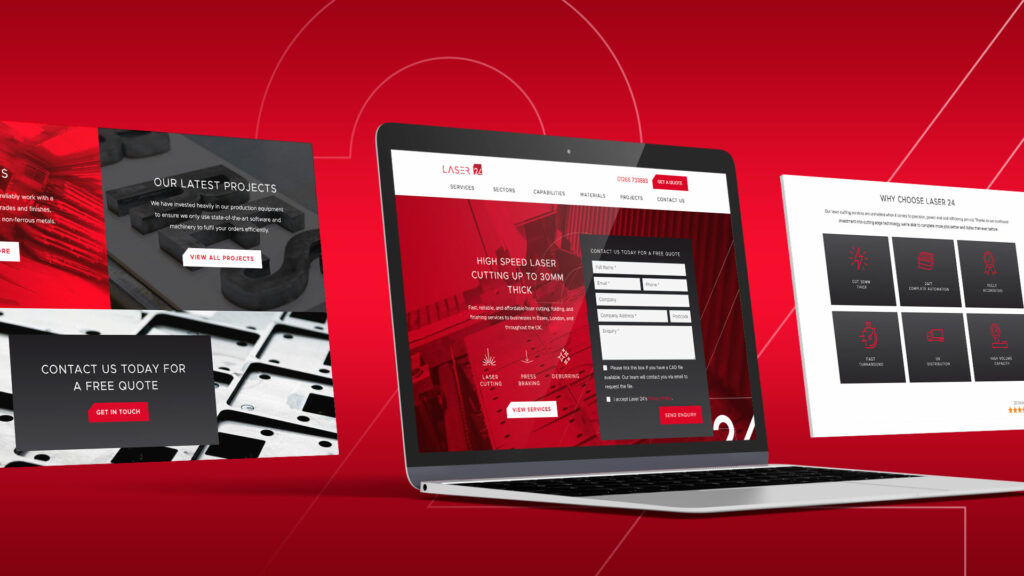 Step 6. Design of Key Website Subpages
Once the homepage is signed off, we will move on to the next part of the design phase, the key subpages.
We don't design every single page of the website as some of the pages may use the same template, depending on website size.
The subpages we focus on designing include:
Pages with a special layouts
Pages with functionality for example, forms, calculators, and bespoke maps
Key templates such as individual blog posts or case study pages
No two websites are the same so the number of pages and templated pages will differ between each project.
Step 7. Content Development
If you have asked us to create the copy for your website, this process will run alongside the design phase of your project.
Our team of copywriters will carry out initial keyword and competitor research before creating a content framework.
Once the framework has been laid out, they'll ask for your input, requesting key topic points for each page of the website.
Using the initial keyword research and topic points, they'll begin crafting your copy.
Your copy will then be supplied in situ within the designs, so you can really get a feel for what the finished website will look like.
Any tweaks or changes will be carried out before moving to the build phase.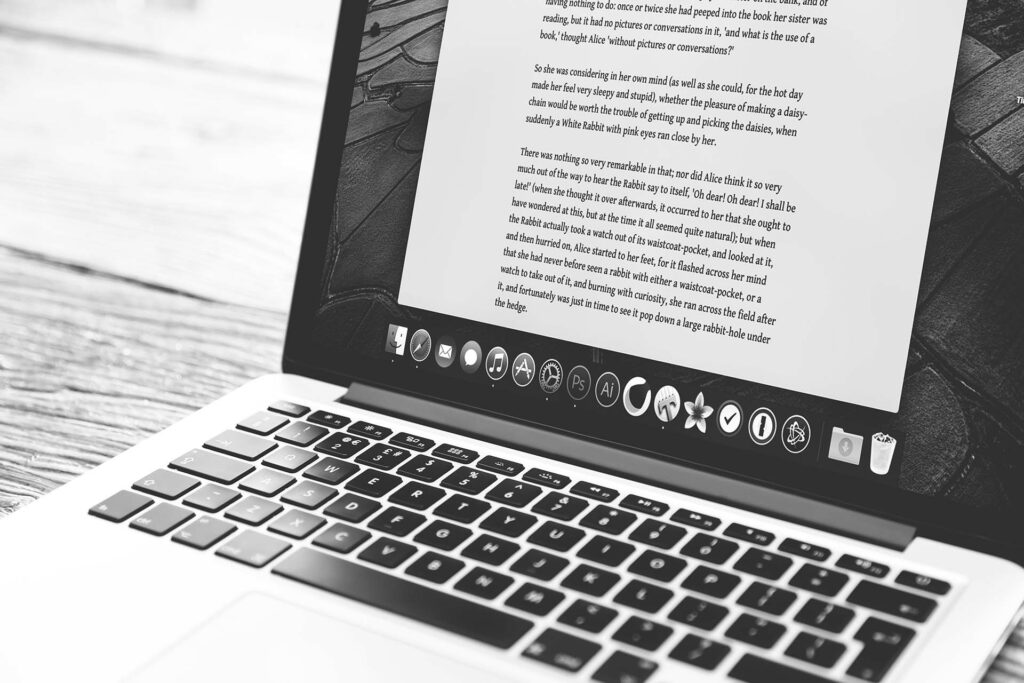 Step 8. Website Build
Once the designs have been signed off, our website developers can start the build process.
All our websites are built in WordPress and come with an integrated content management system as standard.
The content management system allows for easy editing and is something we can train you to use.
Once the website has been built and any plugins purchased and integrated, we will jump on a call to showcase the website to you.
This review stage allows us to take onboard final feedback and make any last adjustments needed.
Step 9. Final Optimisation
Before launching a website we complete the final optimisation process.
This includes preliminary launch optimisation for organic search including the writing of alt tags and meta descriptions, as well as the installation of Google Analytics, Google Tag manager and Google Search Console.
During this time, we will also optimise the website for speed and run a pre-launch audit to iron out any issues/bugs highlighted before making the website live.
Step 10. Website Launch
Once the website has been tested, reviewed, tweaked, and optimised, it's time for the launch.
Our developers will migrate the site and all its integrations over from the development platform to a live one, visible to the public.
Once this is done, the website will go through some final checks and will undergo a period of settling before analytics and audits can be run accurately, this is completely normal!
Now Your Website Has Launched… What's Next?
We always recommend running a marketing campaign to correspond with the launch of your new website.
Marketing campaigns can be used to create brand awareness and drive users to your brand-new website.
Click to find out more about how we can help you with our marketing services.
Web Design Agency in Leigh-on-Sea, Essex
At Swan Creative we build beautifully branded, high-functioning websites to meet client goals.
With over 26 years' experience in the creative industry, we know how to build strong brands an even stronger online identity that stand the test of time.
Ready to start designing your new website? Call us today on 01702 471 015 or fill out a contact form and we'll be in touch.