It's estimated that there are at least 2 billion websites on the internet right now. That's 380 sites "going live" every minute.
As one of your business's most important assets and often a user's first point of contact with a brand, your website needs to enhance your digital presence to engage with your audience, effectively converting visitors into leads and sales.
But with just 5 seconds to make a good impression and lots of competition, how can you stand out from the crowd?
In this article, we highlight what makes a good website and the key elements you should consider when creating a website.
A clear purpose
Before designing a website, you need to understand its purpose and what you want it to do. Whilst it's possible to have several purposes at once, an overarching goal is helpful.
If you're looking to generate leads and sales, a lead generation website or brochure website could be an option.
If you're looking to sell products, you'll need an eCommerce website with payment integration.
If you're providing an online course, you'll need a membership website.
Unsure what type of website your business needs? Speak to an expert today.
Target audience
To ensure your website is positioned correctly and fit for purpose, you'll need to consider your target audience.
If you understand what type of users will be visiting your website or buying your product, you can build the site to suit them.
Here are a few questions to get you started:
What age are they?
What are their demographics?
Why do they need your products/ services?
What are their interests?
Need help with your brand strategy and positioning? Find out how we can help you today.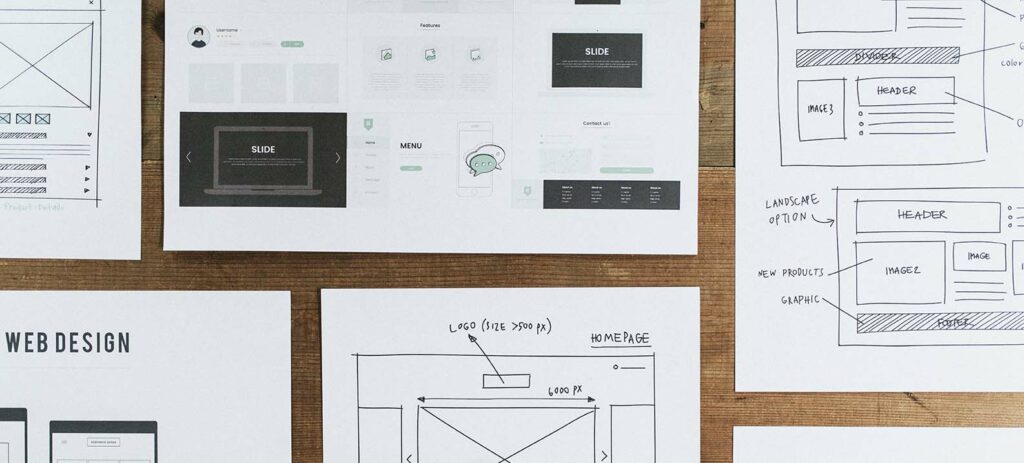 Clear navigation and hierarchy
User Experience (UX) plays a key role in helping visitors to use, understand, and importantly stay on your website.
A well-designed website should be easy to navigate with a clear page hierarchy. It should guide visitors down your sales funnel and incite them to take the desired action, whether buying a product or inquiring about your services.
The menu, call to action buttons, and search bars should be easily identifiable and surrounded with relevant content that minimises dead ends and a high bounce rate.
Optimised for mobile
Your website must look good and work well on a variety of devices.
As the growth of mobile devices increases, search engines like Google are emphasising the need for web design to be optimised for mobile.
This optimisation will not only enhance the user experience but will also positively impact your organic search rankings.
If you do not optimise your website for mobile, you will be penalised in organic search and may miss out on the opportunity to stand out against your competition.
Quality content
Relevant and high-quality content is key to encouraging users to engage.
Providing fresh and original content regularly educates your visitors and positions you as an expert in your industry, building trust and credibility.
Allowing you to stay top of mind until they are ready to make a purchasing decision.
Utilising keyword research and creating copy that focuses on the users' needs will also help boost your organic search ranking.
Clear calls to action
A call to action encourages your audience to take deliberate action.
When placed strategically throughout your website, it can help guide your visitors into reaching out and enquiring about your product or service.
Optimised for search
In this day and age, it's not enough to build a nice-looking website; you need to drive traffic to it too. Optimising your website for search engines is the key to being found organically. So alongside creating keyword-rich content, you'll want to make sure you've got the essentials of SEO covered too. This includes using schema markups, using page titles, meta tags, and alt tags in every image.
How can Swan Creative help you enhance your digital presence?
As a leading web design and development agency with 26 years of industry experience, we know a thing or two about designing and building high-performing websites.
Whether you have a website that needs a refresh or looking to build a fresh you've come to the right place.
Speak to our experts today to find out how we can help you transform your online presence by calling 01702 471 015 or dropping us a message.